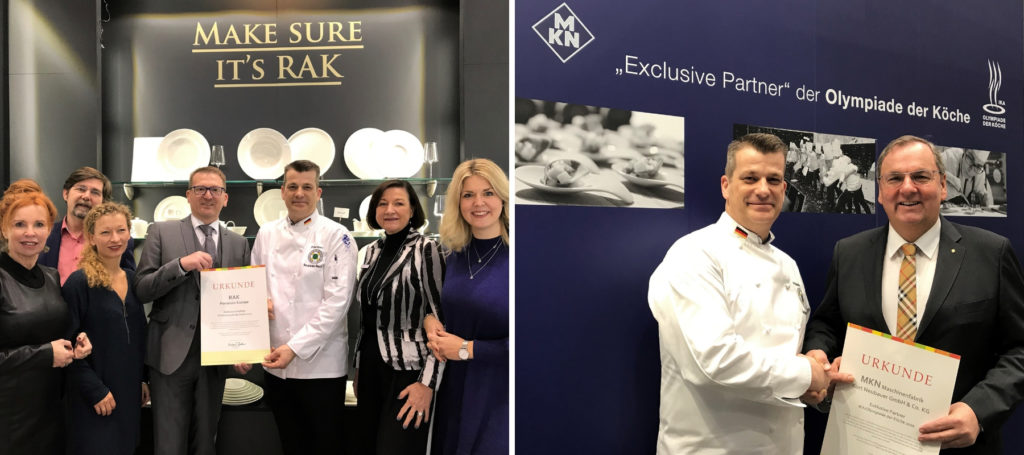 Thanks to strong partners at its side, the VKD as host can master this unique competition.
Written by Sonja Kuhl
The IKA/Culinary Olympics 2020 will be a cooking competition of superlatives. In two halls of the International Congress Center Stuttgart, the organizer, the VKD, is planning the Restaurant of Nations and 22 glass competition kitchens. There will be more teams, individual exhibitors and visitors than ever before.
Thanks to strong partners at its side, the VKD can master this unique competition. The VKD is particularly pleased to have gained MKN Premium Professional Cooking Technology and RAK Porcellain as Exclusive Partner. In addition to Messe Stuttgart and Dehoga Baden-Württemberg, they make a significant contribution to the success of the largest international competition of culinary art.
RAK provides all the porcelain that is needed on the four days of the competition. MKN equips all competition kitchens with thermal professional cooking technology – from classic cooking technology to combi steamer, all made by MKN. This means a lot of effort for the two supporters. VKD President Andreas Becker greatly appreciates this. "We are proud of these strong partnerships," he said during the official document handover at the Internorga in Hamburg. "We are very pleased that our long-term supporters have remained loyal to us at our new location in Stuttgart." The two companies had already supported the IKA/Culinary Olympics in recent years.
"We feel connected to the IKA / Culinary Olympics. We want to support the industry, "said Sven Bodry, Sales Manager Europe at RAK Porcelain. He is confident his special dinnerware selection will contribute to a unique IKA experience for international chefs and visitors. "On our porcelain, the world cooks during the Olympics of the cooks."
For the equipment of the 22 competition kitchens organizer VKD relies again on the thermal devices of MKN. It is a matter of course for CEO Georg Weber to support this important event for the industry. "We have a great deal of sympathy with the VKD and the IKA/Culinary Olympics," he said in Hamburg. "We are very pleased about this partnership and that we can reliably contribute to success with our technology."
---