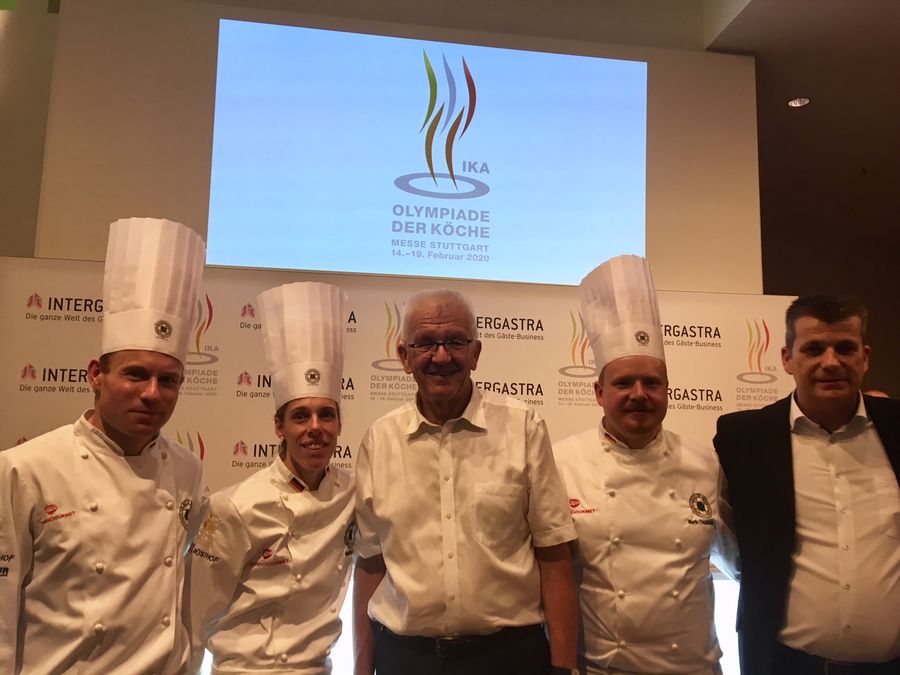 Representatives of the German National Culinary Teams, VKD, Dehoga and Messe Stuttgart were guests of the "Stallwächterparty" in Berlin at the beginning of July. That is where they drew attention to IKA/Culinary Olympics and the Intergastra.
IKA / Culinary Olympics: that is competition, passion and international exchange among the professionals in white. At the beginning of July, representatives of VKD and its National Culinary Team, Dehoga and Messe Stuttgart drew attention to this international festival of culinary art.
Once a year, the summer party, the Stallwächterparty, takes place in the Baden-Württemberg state representation in Berlin. Chancellor Angela Merkel as well as its host, Prime Minister Winfried Kretschmann, Thomas Strobl, Interior Minister of Baden-Wuerttemberg, Guido Wolf, Minister of Justice and Europe in Baden-Württemberg, Green politician Cem Özdemir and many other representatives of local politics were guests of the party. Among the 1,500 guests this time were VKD President Andreas Becker and Managing Director Felizitas Laun, sponsors of the association and representatives of Dehoga and Messe Stuttgart, where the IKA/Culinary Olympics 2020 will take place parallel to Intergastra. They all traveled to promote the Culinary Olympics and the gastronomic professions.
Steffi Kerber-Reichel and Martin Deutschmann, both chefs in the Senior Culinary Team, distributed Petits Fours to the guests. Speaking to politicians and visitors, they talked about the work and training of national chefs in preparation for the World Cup in Luxembourg later this year and the IKA/Culinary Olympics 2020.
VKD President Andreas Becker also made important contacts for the association. A successful start for the advertisement of IKA/Culinary Olympics 2020.
---