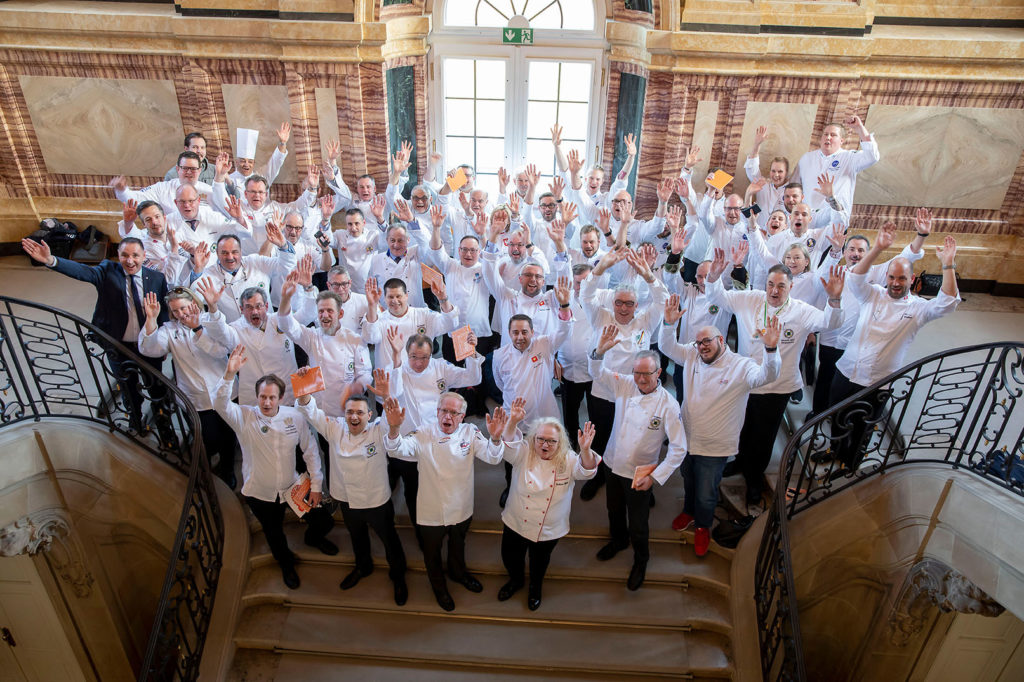 With the help of prominent support, the German Chefs Association (VKD) has drawn competition days of the IKA/Culinary Olympics, which will take place in parallel with Intergastra in Stuttgart in 2020.
By Sonja Kuhl
The magnificent marble hall of the New Palace in Stuttgart was bathed in IKA orange light, the chandeliers were freshly polished and the sun was shining brightly. A worthy setting for the draw of the competition days for the 25th IKA/Culinary Olympics. It was a festive atmosphere – but also a certain curious tension. Exactly one year before the official start, the starting gun for the IKA/Culinary Olympics 2020 was given with the competition draw on 14 February. Team representatives from 15 nations came to find out right on the spot: On which days does my team compete?
The teams from Messe Stuttgart and VKD had taken the competition draw as an opportunity to inform the regional and trade press about the oldest and largest international culinary exhibition. Several media representatives were there to ask their questions. The German National Culinary Teams provided an outlook on the IKA 2020. They presented finger food and set culinary accents.
IKA strengthens the chefs network
VKD Vice President Daniel Schade, who stepped in for the ill President Andreas Becker, opened the official part of the draw. The IKA/Culinary Olympics is important for the branche, he said. " It brings together international culinary art in one place and sets technical and culinary standards. We learn from each other and get inspired." The event also promotes international and personal exchange and strengthens the chefs network, he said. This is the basis for continuing our craft at a high, professional level, Daniel Schade added.
Peter Hauk MdL, Minister for Rural Areas and Consumer Protection Baden-Württemberg, also welcomed the international participants. He was pleased that with the IKA/Culinary Olympics one could get a "prestigious event" to Baden-Württemberg.
The draw
VKD and Messe Stuttgart received prominent assistance by the gymnasts and Olympic champions Tabea Alt and Fabian Hambüchen. "It was an honor for us to be here. We know the excitement prior to competitions and already share the thrill with the teams, "said the Olympic champion on the horizontal bar, Fabian Hambüchen. Tabea Alt is already keeping her fingers crossed for the teams that during the competition they can recall on what they have trained in advance.
The athletes drew the days for the Restaurant of Nations (National Teams, evenings, Junior National Teams, lunchtime) and the Restaurant of Community Catering (lunchtime). All further competition days for the teams resulted automatically.
At the get-together afterwards, the Meistervereinigung Stuttgart took care of the feeding and the team representatives had the opportunity to exchange views with colleagues and the prominent assistants. Some teams also took the opportunity to look at the hotels where the teams will be accomodated in 2020. Herewith the culinary pre-Olympic year has begun.
Results of the competition draw.
---