Cool Compact
Cool Compact is the largest manufacturer of commercial refrigeration equipment in Germany. The company's philosophy is centered on the high quality of its products, the continuous development and advancement of technical components and controls and the focus on setting new industry standards in energy efficiency.
As the sponsor of the IKA/Culinary Olympics, Cool Compact demonstrates its commitment to the industry and has provided the kitchen equipment for the event. "The VKD (German Chefs Association) as an association is the most important platform for chefs in Germany, which is why we are honored to be supporting the Culinary Olympics", explains Andreas Lindauer, Managing Director of Sales & Marketing at Cool Compact. "We are very pleased that, yet again, all contestants can rely on our products."
Cool Compact's refrigerators and freezers as well as the company's refrigerated counters and freezing counters are designed to be operated in commercial kitchens of hospitality, hotel and catering service businesses. These cooling appliances feature the "intelligent" FRIGOS electronic control system which precisely monitors the cooling cycle while lowering energy costs. The defrost cycles and the running time of the compressor are controlled as needed, depending on the frequency of the door being opened and the subsequent temperature fluctuations in the cooling compartment. In standby mode, the number of defrost cycles is reduced further and the control reduces the running times of fans and compressors to a minimum. The applied refrigeration technology further optimizes energy consumption. The "Compact Cooling Block" features highly efficient fans for evaporators and condensers as well as extremely energy-efficient compressors. This also significantly increases the energy efficiency of the company's products, with some even achieving energy efficiency rating A.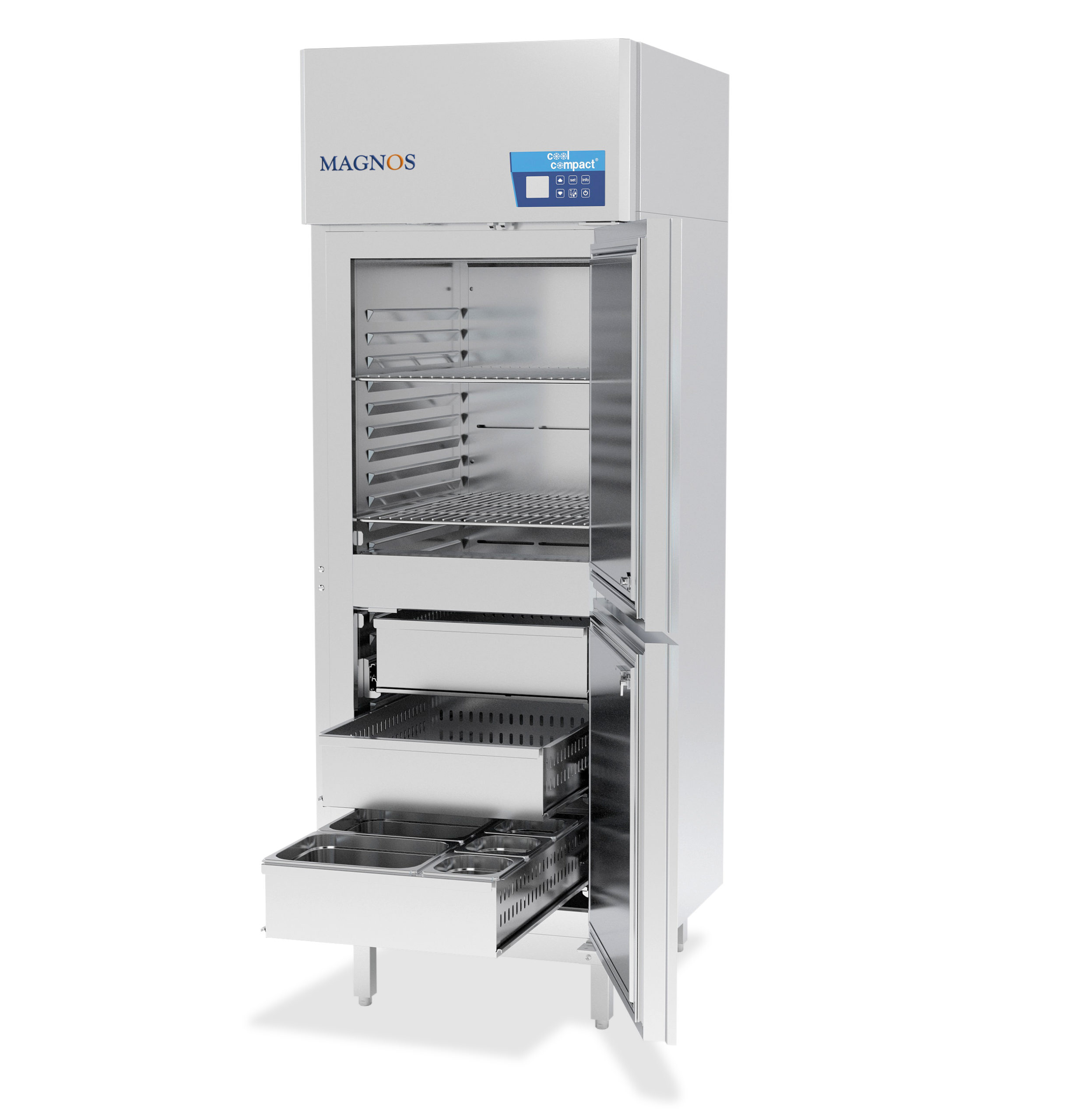 In order to optimize the scheduling and preparation of large quantities of food, Cool Compact offers a wide range of blast chillers and blast freezers. Blast chillers and blast freezers play an important role in the Cook & Chill process, when food has to be ready for service in a short amount of time, allowing for more flexibility in the modern kitchen and optimizing workflows. The prepared food is blast chilled and then regenerated through the use of a combi steamer when needed for serving. During this process, it is important that foods are chilled from +65°C to +3°C within 90 minutes.
Cool Compact offers a variety of training programs and seminars about possibilities and optimizing workflows when preparing food. More information about these seminars can be found on the company's website.
As part of its product line, Cool Compact also offers waste disposal coolers, cooling trays and various beverage coolers.